Anyone who has a house and an outdoor area can feel privileged! With plots getting smaller and smaller, backyards are getting rarer or smaller in today's homes. But for those who have this space at home, it is possible to set up a place of refuge in the midst of the chaos of everyday life.
Backyards must meet the needs of residents. They can have a gourmet area with a barbecue so that they can socialize with family and friends, as well as a space to disconnect from the stress generated by routine, rest and connect with nature.
To decorate this separate corner, several tips with creative ideas that you can implement there in your environment. Ideas with crushed stone, tires, flowers, plants and pallets. Items that are easy to apply and tips that fit into different types of pockets and tastes. See below:
Decorated backyard ideas.
with pallets
Pallets are simple, practical and economical ideas to decorate your backyard. You can use them to assemble different furniture, panels for flowers and plants, even to assemble a vertical vegetable garden is a good idea of ​​how to assemble your backyard decorated with pallets. Check out the tips we've separated for you:
A simple idea to make with pallets, sofas for the backyard with the use of three pallets. Also note that a side table with two pallets was set up.
A backyard decorated with a rustic bench made with pallets, a charming place for that meeting with family and friends.
Stone gravel
The crushed stone is a very cheap resource for and charming for those who don't like to have their entire yard with grass. With it you can create paths or even cover the entire yard to avoid unwanted weeds. A modern tip that leaves your backyard decorated with a more relaxed face. Check out the ideas we've separated to delight you:
Tell the truth, this little corner won your heart just as it won ours. The gravel stone was used as a backyard waterproofing and it matched perfectly with this green wall with various plants. The jabuticaba foot is also a charm on its own with this wooden stool.
In this project, crushed stone was used as a path to access the various corners of this decorated backyard. Note the lamps that follow the same stone path, giving an extra touch to the decoration of this space.
Flowers
A decorated backyard comes much more alive with flowers. The natural color of the flowers makes your corner more cozy and besides taking care of plants and flowers is very therapeutic, it is worth investing in them and making your space more colorful. Check out our ideas and implement them in your backyard:
Who doesn't want a hammock to relax in the late afternoon? In this decorated backyard, flowers were used to give points of color amid the green grass, there are flower beds and vases hanging on the wall that give a lot of charm and warmth to the backyard.
A wall with several vases of orchids is the proposal of this beautiful and flowery project. Orchids require a little bit of specific care, a good option for you to learn and create a new relaxing habit when taking care of these beautiful and delicate flowers.
Flower pot
If your backyard doesn't have space to plant your favorite plants, it's worth investing in pots to get this essential element in a backyard like plants and nature. They purify the air and bring a sense of peace and tranquility to those who want to relax in this space. Check out the tips we chose to inspire you:
In this project, the rest corner was enhanced with some vases in the same material with beautiful plants. Ceramic pots are a great option to accommodate your plants, as they retain moisture and thus keep your plant moist for longer.
In this backyard decorated with potted plants, they were arranged in different ways, such as fixed to the wall and hanging from the pergola. Simple ideas that bring nature closer to you, how about implementing it in your home?
This resting corner has a lot of charm and warmth, and the reason for this is the colors that the natural flowers have. Note that several flower vases fixed to the wall composed of vases that are on the floor make the environment very beautiful and welcoming.
plants
Plants have the power to bring nature simply and cheaply into your home. And setting up a backyard decorated with plants is a way to have a corner for relaxation and snuggle within easy reach. Plants can filter ambient air, help with concentration and relieve stress.
It is worth investing in them for the decoration of your space, check out our tips to delight you:
A small and very sophisticated backyard, a green wall and two trees mix with modern and stylish outdoor furniture make up this decorated backyard full of personality.
For those who have the privilege of having a tree in their decorated backyard, it is possible to add a swing for the children to have fun and even a hammock to relax in the late afternoon.
This decorated backyard is a charm on its own, with a table for outdoor family meals, lots of plants and flowers. This space won our hearts with this central tree that keeps the air always fresh.
tires
Tires look beautiful in decorated backyards, as well as being a simple idea that benefits the environment by recycling tires that would otherwise go to waste. Below we have chosen tips on how to reuse this material in a creative way to add to your decorated backyard:
One of the ways in which tires are used most are as flower boxes, they accommodate the plants in a charming way. You can even paint the tires with colorful and vivid colors to bring even more joy to your decorated yard.
In this playful backyard project for children, the tires were used as puffs. Decorated with rope, the beanbags have a more rustic look that combines very well with the delicacy of fabrics used in children's huts.
A creative idea to reuse the tire is to make a beautiful swing with crochet, for sure this item will become the fun of children in your backyard.
Pool
If you have a nice space in your house that includes a swimming pool, we have chosen several ways for you to be inspired and create a decorated backyard full of personality with your pool as the protagonist of this decoration:
The pool in this decorated backyard is the protagonist of this project, with a wall in stone tiles and a wooden frame above, it is composed in a natural way with the white outdoor furniture and many plants arranged around the backyard.
This hammock is an invitation to spend a relaxing afternoon in this backyard decorated with a pool in light blue tiles, surrounded by plants and a eucalyptus fence that gives this backyard a beachy charm.
stones
Stones bring nature in a more brutal way to your decorated backyard, but it doesn't have to be charming and cozy. Stones can be added in different ways in the decoration, either as a path and passage, or even as a covering for more rustic walls.
We have chosen simple and inspiring tips so that you can adapt in the best way in your decorated backyard:
In this project, the stones serve as a path in the middle of the decorated backyard. A very practical tip to leave your space with a more rustic and natural style.
This shower located in the decorated backyard of a residence gained a rustic touch with the walls all covered with natural stones. A very simple and full of personality tip for you to motivate yourself to create a space of your own in your home.
Syntactic Grass
For those who want to have a decorated yard, but don't have the patience or time to maintain it, synthetic grass is a good option, as it does not require maintenance and always maintains the greenish aspect that we like. Check out the ideas we chose to inspire you to use synthetic grass in your space:
The biggest advantage of synthetic grass is the lack of maintenance and the cleanliness of the environment that it provides compared to natural grass. In this decorated backyard, synthetic grass covers the entire backyard, leaving the space beautiful and with personality.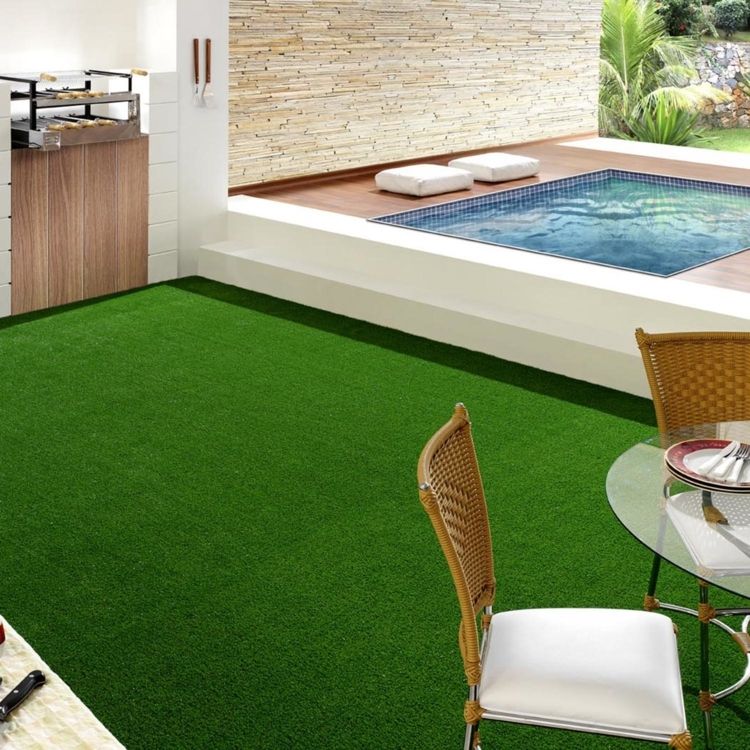 The synthetic grass in this decorated backyard brings to the environment the shade of green that refers to nature in a clean and practical way. The lateral planters made up of several trees and a bench in the background, create a cozy and calm environment to relax at the end of the day.
As we can see from this post, the backyard is a place of refuge amidst the chaos of everyday life, take advantage of our tips and use creativity to set up a space in your house for you to relax and enjoy with your family and friends. .
Some questions and answers
How do I design my backyard?
It might seem like an intimidating task, but designing your backyard doesn't have to be a complicated process. The first step is to create a set of clear goals for your backyard so you can narrow down what features you really want in your space. Are you looking for a space for cooking out? Something that will help you relax? Think about what you want from your yard and then figure out how to translate that into real-life solutions. Some simple tips can get you started!

1- Choose a space you want to use

2- Decide what your main goal is (such as relaxation, cooking, or playing games) and write down that specific goal.

3- Think about what you'd like to do while in that space and make a list of all those things. For example, if your main goal is relaxation, you might want to start a garden or have an outdoor shower to help yourself feel relaxed after getting dirty from yard work. If cooking is your goal, think about specific features (or items) you want in your backyard and write them down! For example, maybe it's a fire pit where you can grill—or an outdoor kitchen with everything built into one area for easy access? The possibilities are endless!

4- Take another look at your big picture goals and find ways to incorporate these smaller goals into your plan so they become part of a more cohesive design.

5- Keep brainstorming: don't be afraid to switch things up! It doesn't hurt to play around with different ideas until you come up with something that makes sense for you, fits within your budget, and has all of the elements on your list covered.
How can I make my backyard attractive?
With so many people looking to create a space that's both pleasant and inviting, it can be difficult to decide which outdoor projects will work best for your unique yard. Luckily, we have some simple tips for making your backyard attractive in any season.

1- Install a stone or gravel patio area: One of the easiest ways to turn your yard into an outdoor living space is by installing a functional yet attractive patio. Stone and gravel are both durable options that allow you to take advantage of your backyard in any season—and both also come in a variety of styles, shapes, and colors.

2- Add a fire pit or outdoor fireplace: Have you ever enjoyed roasting marshmallows by an open fire? If so, then you know that there's something special about sitting around a campfire.

3- Create a water feature: The sound of running water has been shown to have numerous benefits for people of all ages, and an outdoor water feature provides those benefits while adding visual appeal. Once set up, all you need to do is turn on your water—and then kick back and enjoy!

4- Install a built-in grill: A barbecue grill is an excellent way to attract family and friends to your backyard, especially if you are a fan of hosting outdoor parties. Many people choose grills that are permanently installed in their backyards so they don't have to take time and effort setting them up when they want to cook outdoors. Other options include portable barbecues that come in handy when you're camping or having a picnic.

5- Add low-maintenance landscaping: Do you have a big backyard that needs work, but don't want to spend hours maintaining it? Planting low-maintenance plants may be just what you need. There are many options that require very little care and can look attractive throughout your yard—even when you are too busy to tend to them. Examples include succulents, ferns, and native plants.
What is the cheapest way to landscape a backyard?
We've all seen pictures of dreamy backyard makeovers that look like a million bucks, but just how much are you willing to invest in your outdoor space? If a full-blown renovation isn't realistic for your budget, don't panic. Check out these 5 tips for creating beautiful outdoor spaces without breaking the bank.

1- Eliminate weeds. If you're planning to add grass, soil or mulch to your space, it's important to rid your garden of weeds first. A thick layer of weed growth will prevent roots from growing deep and inhibit plants from flourishing. Weeds also rob nutrients from grass and ground cover.

2- Select plants that are drought tolerant. If you're planning to add plants to your space, it's a good idea to research their watering needs. While many gardeners prefer hydrangeas, they require moderate amounts of water throughout spring and summer.

3- Choose native plants. With a little research, you can select plants that thrive in your local climate without any extra watering or care. If you're planning to add grass, look for varieties like bermuda and paspalum, which are adapted to withstand hot summers and sandy soil. Researching these types of low-maintenance landscaping options may also help you reduce water consumption.

4- Add mulch to improve soil and add color. Mulch can be used in all sorts of ways, including layering, scattering or spreading across an existing garden bed. Mulch can help conserve water by reducing water evaporation through a process called capillary action—meaning it's a good idea to choose mulches with high moisture content like pine needles or shredded leaves.

5- Create focal points. If you're planning to add a pathway or patio, it's a good idea to create a focal point in your design—it can be as simple as adding attractive plants or strategically placed stepping stones. Whatever you decide, make sure it catches your eye and complements your vision for your outdoor space.
What are the 7 principles of landscape design?
Landscape design is a challenging field, as there are a lot of things to consider. Do you want to put in new plantings? Perhaps an outdoor kitchen and entertainment area? As it's important not to skimp on these decisions, here are seven landscape design principles that can help you get started.

1- Think about how you want to use your outdoor space: The best way to create a successful design is to know what you want it for. If you're after a place to entertain, keep in mind how much space will be needed for different activities. An open layout might look great at first, but if there isn't enough seating for everyone, it won't serve its purpose well.

2- Think about what your lifestyle is like: Your landscape design will be different if you work from home, are retired or are raising a family. For example, kids can benefit from having a play area, but not if they're out there alone all day.

3- Don't get carried away: It can be tempting to spend all your money on new plants and products, but resist! Instead, make changes gradually. If you purchase a few new items at a time, you can see how they fit into your design without risking too much money.

4- Make sure it fits in with your property: Consider whether or not you want a formal design or an informal one—this is completely up to you.

5- Be realistic about your time and budget: Do you think you can manage your landscape design on your own? If not, consider getting help from a professional. There's no shame in hiring someone else to do some of the work for you; it'll allow you to focus on what's most important.

6- Don't just focus on how it looks: Look at how your design works with your surroundings. For example, a lawn will not grow well if it's surrounded by plants that need a lot of water, or if it faces an area that receives little sun.

7- Be sure to keep up with maintenance: Before you get all creative, remember that plants still need care and attention even after they're installed in your yard. Get out there and tend to them!
How do you plan a backyard layout?
There are many ways to design your backyard; you should consider how you'll use it, what size it is, and what style of home you have. And be realistic about your goals—if you want a big pool but don't have space, know that an above-ground option is a better choice.
How do you make a big backyard cozy?
Relaxing in your backyard can be a whole lot of fun, but it can also become stressful if you feel like there's not enough space or not enough shade. The key to a successful backyard is balance—you want to feel cozy, even if it is a huge area. Here are some ideas for creating a peaceful and relaxing space for entertaining, lounging and more!

1- Colorful pillows and blankets. Whether you're laying out in a lounge chair or on a bench swing, colorful throw pillows and blankets are a fun way to spice up your backyard seating.

2- A bean bag. Sitting down on a hard surface can be uncomfortable; fortunately, there are many different kinds of comfortable seating options available, including bean bags!

3- An outdoor rug. An outdoor rug is a great way to bring a pop of color into your backyard and will also help prevent splinters on wood decking. They're not just for indoors anymore!

4- A table umbrella. More people are spending time outdoors, so why not get a little shade while you're at it? Shade structures like patio umbrellas are an inexpensive way to provide some much needed shade in your backyard!

5- Potted plants. A stunning bougainvillea might not be an option if you're concerned about messy leaves, but there are lots of low maintenance plants that will provide a splash of color in your backyard!

6- Water features. Whether it's a koi pond or just a fountain for birdbaths, you can create a gorgeous feature with moving water to bring life to your backyard space.

7- Outdoor lighting.
How much does it cost to transform a backyard?
The cost of transforming a backyard varies according to several factors. Some of these include: size, number of phases and materials used for installation. For example, starting with a typical 1,200 square foot residential space, fully-installed composite decking costs can range from $2,400 – $3,200; while pavers cost anywhere from $1/sqft to $10/sqft depending on material type and style.
How much should I spend on my backyard?
The exact cost of your backyard project will depend on a number of factors including how much of your yard you want to use, how elaborate you want it to be and whether or not you plan on adding a pool. But what if I told you that landscaping could cost less than $1,000? It's true; with some basic supplies, some elbow grease and a little ingenuity, you can transform your boring backyard into something amazing for under $1K.
Are backyard renovations worth it?
If you're thinking about doing some backyard renovations, it's important to consider whether they'll be worth it in terms of their effects on your day-to-day life. In most cases, if you think you can add value to your home with some backyard renovations, and if those renovations will actually make your life easier—which is sometimes a big if—then go for it.
But don't do it just because everyone else seems to be, or because it seems like fun (though it probably will be). Focus on what works best for you and your needs. And remember that any time spent not working towards improving your business or yourself is wasted time—so consider how much energy you want to put into renovating before you take the plunge.
Why is landscaping so expensive?
The cost of landscaping your yard can vary greatly depending on a variety of factors. Labor costs, installation, plant materials and design are just some of them. If you're looking to save money on your landscaping budget, you might consider asking family members for help or hiring neighborhood kids to assist with simple tasks like weeding or planting. Another option is using cheaper plants in less visible areas of your landscape.
What is a good backyard size?
The ideal backyard size is different for everyone, but to answer your question I'd say at least 4,000 square feet for a single-story home, and about 5,000 square feet for a two-story home. That might sound like a lot of space at first glance—and yes, it is—but once you start thinking about all of the yard components you want (and need), it can quickly seem tight.
What makes a yard beautiful?
A yard is beautiful for a variety of reasons. Sometimes it's about what you add, sometimes it's about what you keep and sometimes it's about what you remove. If your goal is to create a space that attracts butterflies, create plenty of open areas filled with native wildflowers. If your goal is to have kids play without worrying about traffic on bicycles, repurpose an old hopscotch court.
How much does landscaping add to home value?
Landscaping can be an affordable way to dramatically increase your home's value, but it is important to note that not all landscaping projects are created equal. For example, a well-maintained lawn adds about 8% to your home's value, while beautiful landscaping features such as flower beds and walkways add about 18%. The good news is that many of these features are very affordable to add.
What adds the most value to a backyard?
The addition of a natural water feature is by far and away one of our favorite ways to upgrade any backyard. First off, there's just something about falling water that brings peace and serenity to an outdoor space—and let's face it, when we talk about adding value to a yard, we're talking about creating a relaxing place that feels like you could actually live in it.
Does a backyard patio increase home value?
According to one study, most people say yes; in fact, they estimate an extra $11,000 in home value with a backyard patio. Of course, it all depends on your location; if you live in Chicago or San Francisco, a backyard patio may add much more value than if you live in Tulsa or Las Vegas. A better question might be: does a backyard patio increase property value for YOU? It might take some research to find out for sure.
How much does it cost to put in a patio?
The cost of a new patio depends on whether you're doing it yourself or hiring a professional, and whether you choose to build your own or buy one that's already built.
When calculating costs, keep in mind that labor costs will vary by region. If you want to do it yourself, expect to spend at least $2 per square foot for basic materials such as decking boards, gravel or pavers, decorative bricks, and concrete.
Pay about $4 per square foot if you want high-end wood flooring instead of vinyl planks. Again, these are ballpark estimates; costs may be much higher or lower depending on where you live and what type of outdoor living space you're looking to create.
Costs also vary widely based on whether there are complex structures involved (such as arbors) and how many accessories like built-in grill areas, lounge furniture, fire pits, water features, and electrical hookups are added onto a space.
it may interest you check other Home decor ideas :